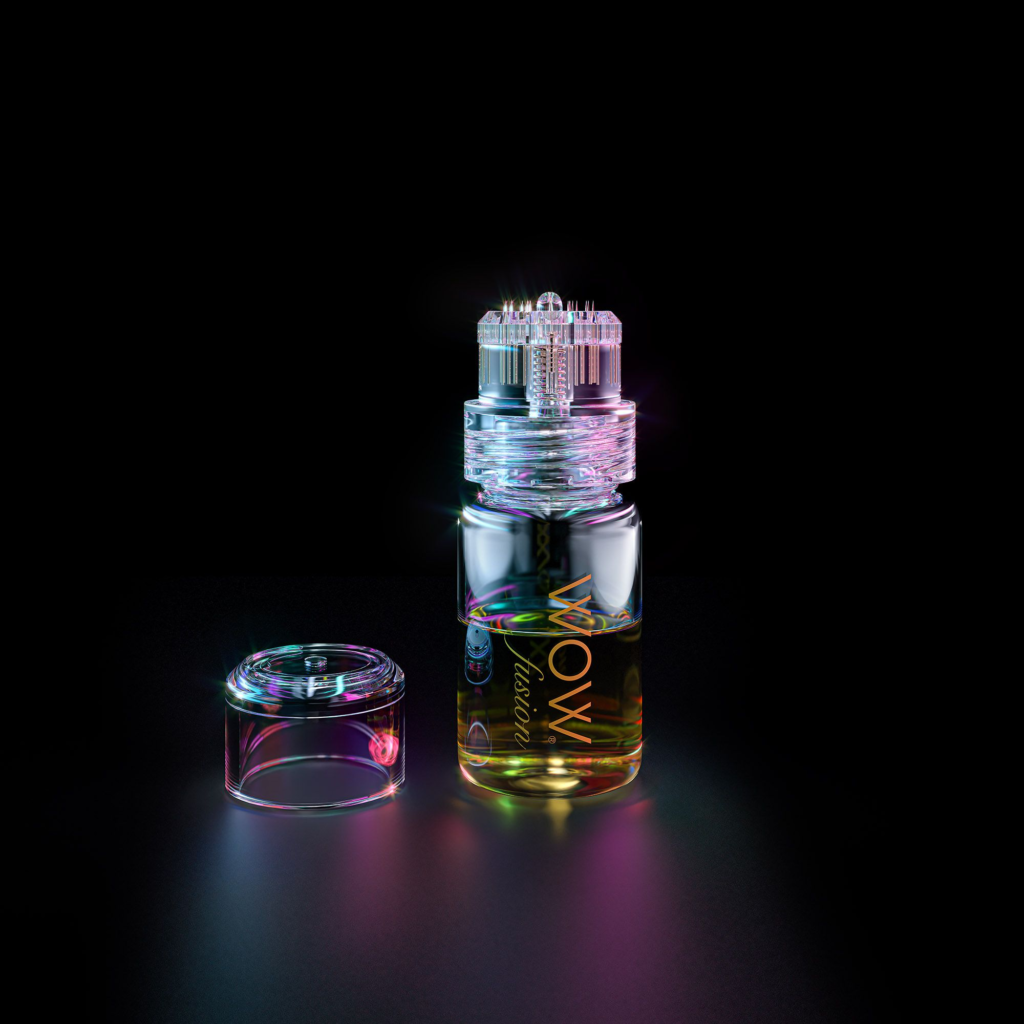 What is WOW Fusion?
WOW fusion is an innovative microneedling device allowing the creation and delivery of a bespoke skincare serum tailored to your individual needs. During the consultation Dr Isabel will assess your skin and together, you will design a skin care cocktail hyper-personalised to your needs. The WOW fusion device contains 20 tiny 24K gold plated needles, tapered to allow the flow of serum into the skin at the depth where they will be most effective. This stimulates collagen and elastin and infuses your skin with hydration, vitamins, peptides and essential ingredients for super healthy and radiant skin.
Some treatments include the use of botulinum neurotoxin (Botox or Azzalure) to produce the sought after 'glass skin' effect which describes exceptionally smooth, even toned and lustrous skin so flawless that it has the appearance of glass.
What skin issues can WOW fusion help with?
As well as incredible hydration and radiance delivered directly to the skin cells themselves, the serums can improve:
Rosacea and redness in the skin
Acne
Open pores
Oiliness
Pigmentation
Fine Lines and Wrinkles
Excessive facial sweating
Dull skin
Rough Skin
Hair thinning on the scalp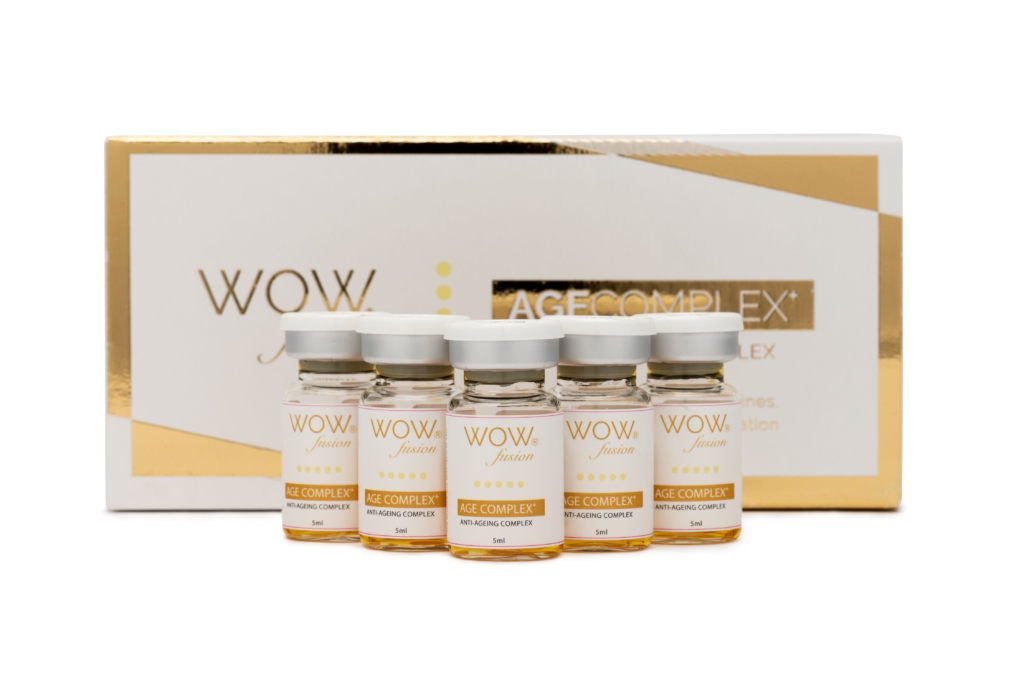 What does it feel like?
Following a relaxing double cleansing treatment, the microneedling and mesotherapy combination might feel mildly uncomfortable in the delicate areas of the face but is over quickly. The soothing and relaxing Wow mask then supercharges the skin with hydration and peptides before a final application of protective spf 50. There is no downtime or need to hide away! If you are concerned about the sensation, numbing cream can be supplied for a small additional charge. It needs to be applied in advance of your appointment so please advise Dr Isabel before your treatment if you would like to use this to ensure your own comfort.
What are the results?
The WOW fusion gives you fantastic glowing skin. You receive the benefit of microneedling with the addition of the mesotherapy cocktail. Microneedling helps stimulate collagen and elastin for a more youthful looking skin and the WOW fusion serum hydrates, brightens, stimulates and improves the texture and tone of the skin. The results can last for up to 3 months from one treatment depending on the solutions made up for you.
Looking for a dazzling red carpet complexion? Why not try a Wow Fusion treatment one week before a special event?
"I booked myself in and I'm honestly so happy I did because my skin is g-l-o-w-i-n-g. Sickeningly good skin." OK magazine
"My face didn't look very red, by the time I left the clinic I just had glowing skin. I was so pleased with the immediate results and for the next few months I could still see the difference in my skin. I could definitely get addicted to these facials and would recommend for a younger looking complexion that lasts a while" Beauty & the dirt
"Six weeks on, the biggest difference for me has been the reduction in my hyperpigmentation. I also enjoyed a post-facial glow for a couple of weeks after the treatment, which is no mean feat for a poor sleeper who often looks tired." Express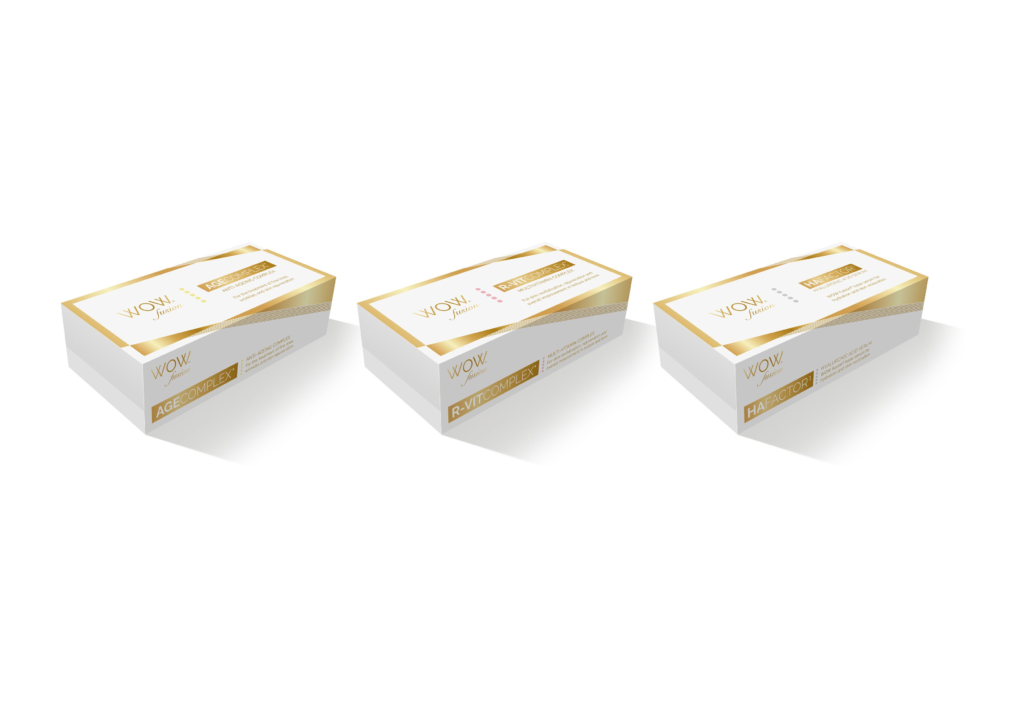 WOW Fusion for rosacea 
Rosacea is a chronic inflammatory skin disorder which is characterised by facial flushing, redness, acne like pustules, broken capillaries and sensitive, dry skin.
Using the WOW Fusion device, a special serum containing calming skin nutrition, hydrating hyaluronic acid and dilute botulinum toxin (Botox®️) can be created for rosacea sufferers. When used superficially in the skin rather than the traditional intramuscular injections, botulinum toxin reduces flushing by constricting the tiny blood vessels in the skin and significantly decreases redness and thread veins. It also stimulates the release of anti-inflammatory enzymes in the skin to reduce irritation, redness and rosacea pustules. It does not in any way affect facial movements when used in a serum.
An improvement in rosacea symptoms will be seen after around 7-14 days and will usually last around 3 months. 
Fees:
Wow Fusion treatment £200
Wow Fusion with toxin £300
Book a Course of three Wow Fusion treatments and get 10% off **
Wow masks for home use £20 each
*device contains nickel, please speak to us before treatment if you believe you have a nickel allergy
**discount applied on last treatment